For organizational needs aimed at improvement and eco-sustainability, Stelmar has obtained numerous certifications in recent years, including:
Quality certifications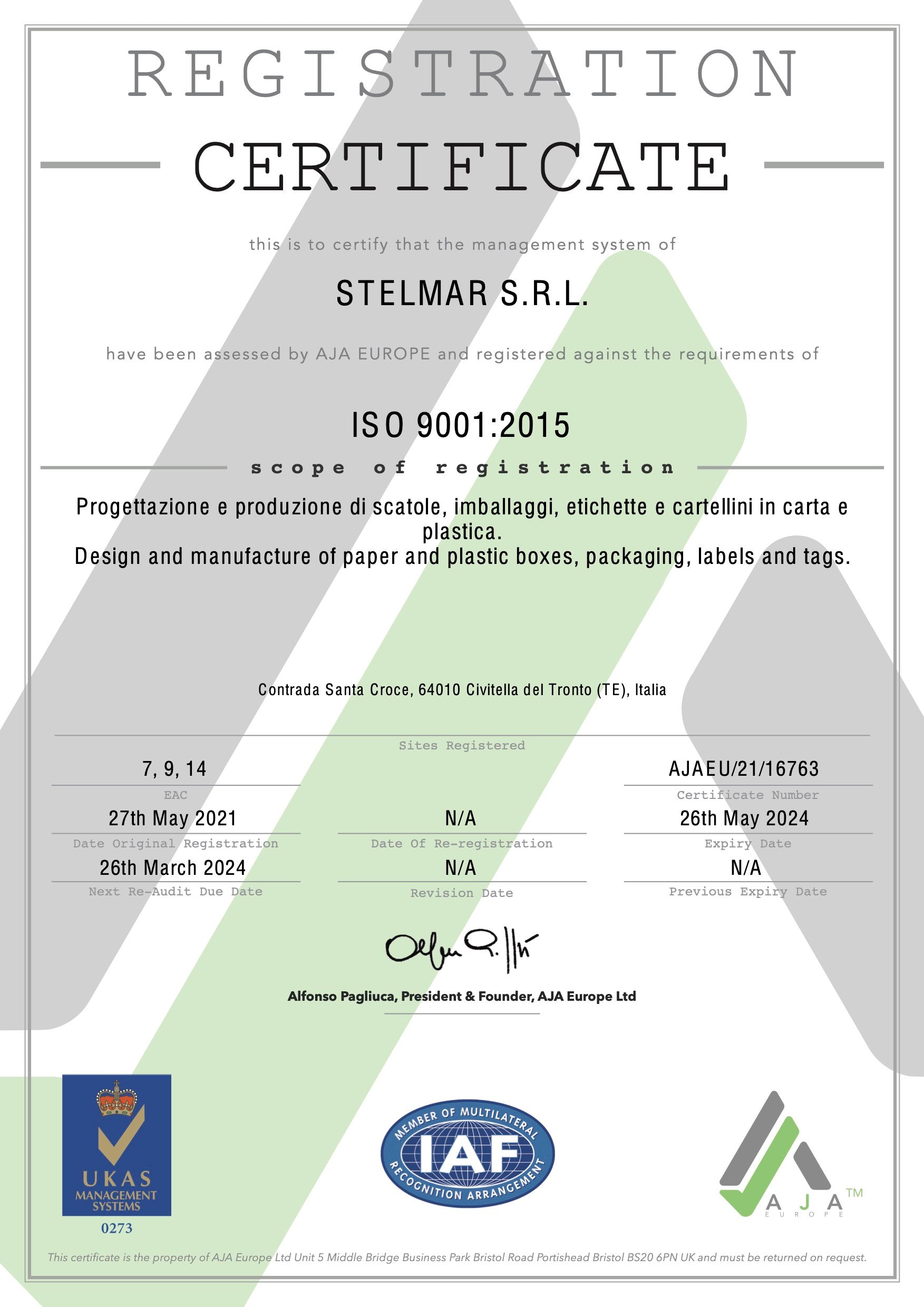 ISO 9001
The acronym ISO 9000 identifies a series of regulations and guidelines developed by the International Organization for Standardization (ISO) which define the requirements for the implementation of a quality management system within an organisation, in order to conduct business processes, improve effectiveness and efficiency in product creation and service provision, obtain and increase customer satisfaction.
ISO 14001
The acronym ISO 14001 identifies a technical standard of the International Organization for Standardization (ISO) on environmental management systems (EMS) which establishes the requirements for an environmental management system of any organisation. Being certified according to ISO 14001 is not mandatory, but is the result of the voluntary choice of the company/organization that decides to establish/implement/maintain active/improve its own environmental management system.
This certification demonstrates that the certified organization has an adequate management system to keep the environmental impacts of its activities under control, and systematically seeks improvement in a coherent, effective and above all sustainable way. ISO 14001 is a process certification.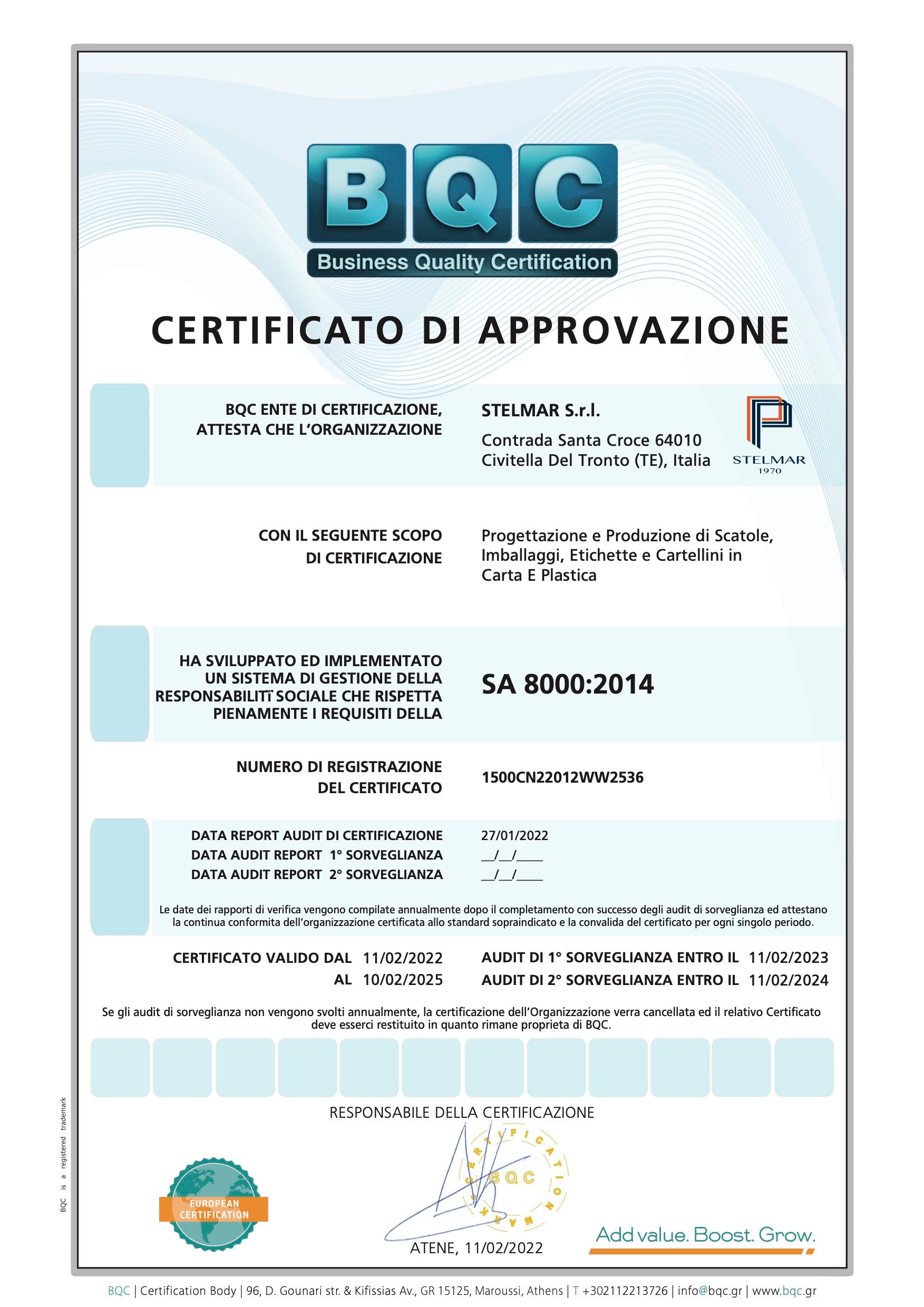 SA 8000
The acronym SA 8000 (technically SA8000:2014 ) SA stands for Social Accountability ) identifies an international certification standard drawn up by the CEPAA (Council of Economical Priorities Accreditation Agency) and aimed at certifying some aspects of company management relating to corporate social responsibility ( or CSR, from the English Corporate Social Responsibility ). These are:
respect for human rights
respect for labor law
protection against child exploitation
guarantees of safety and healthiness in the workplace
The international standard therefore has the aim of improving working conditions worldwide and above all allows the definition of a standard verifiable by certification bodies.
Product certifications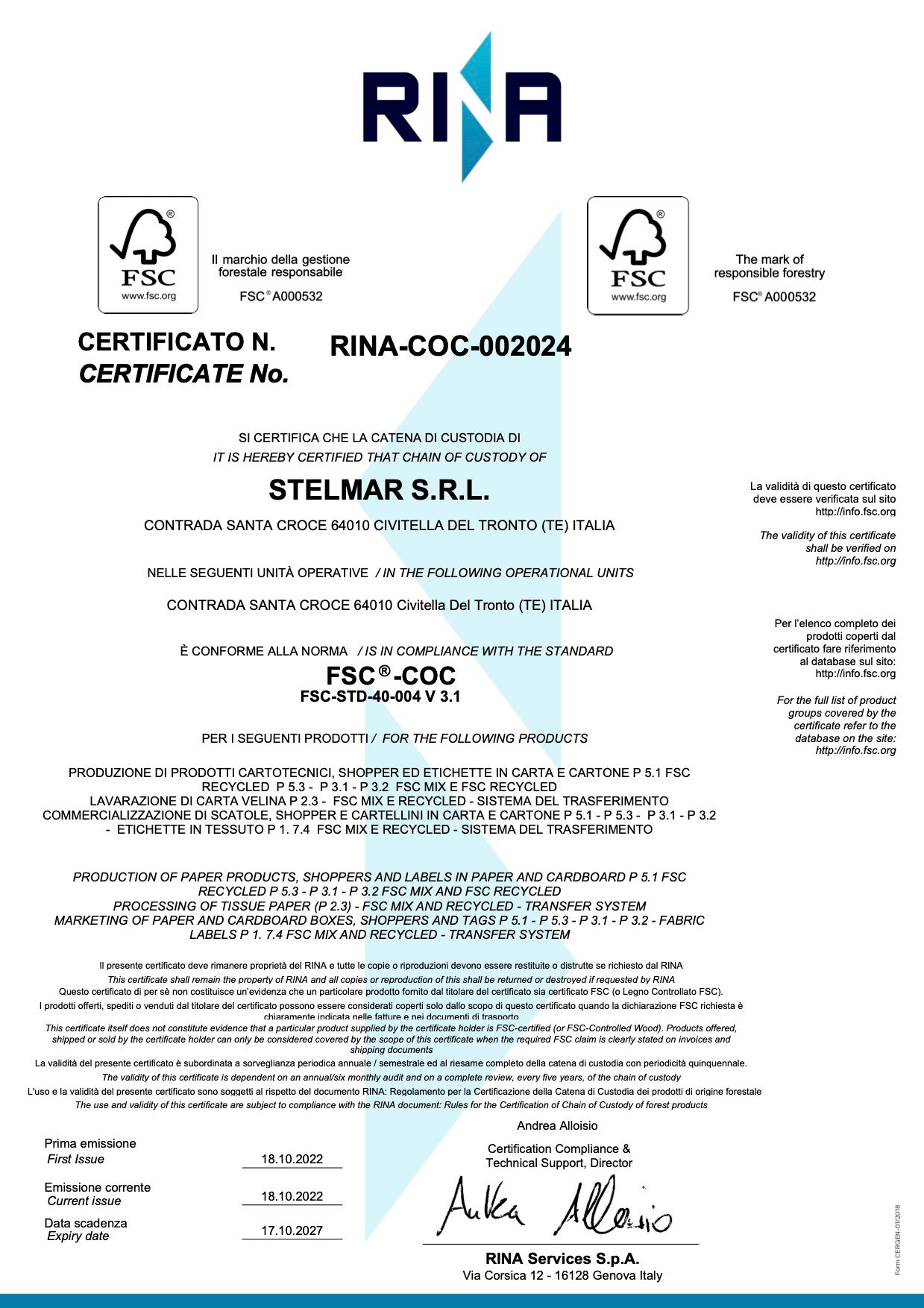 FSC
The Forest Stewardship Council (or FSC for short) is an international non-profit NGO. The FSC has created an internationally recognized forestry certification system.
The certification aims to ensure correct forest management and traceability of derived products. The FSC logo guarantees that the product has been made with raw materials deriving from forests correctly managed according to the principles of the two main standards: forest management and chain of custody.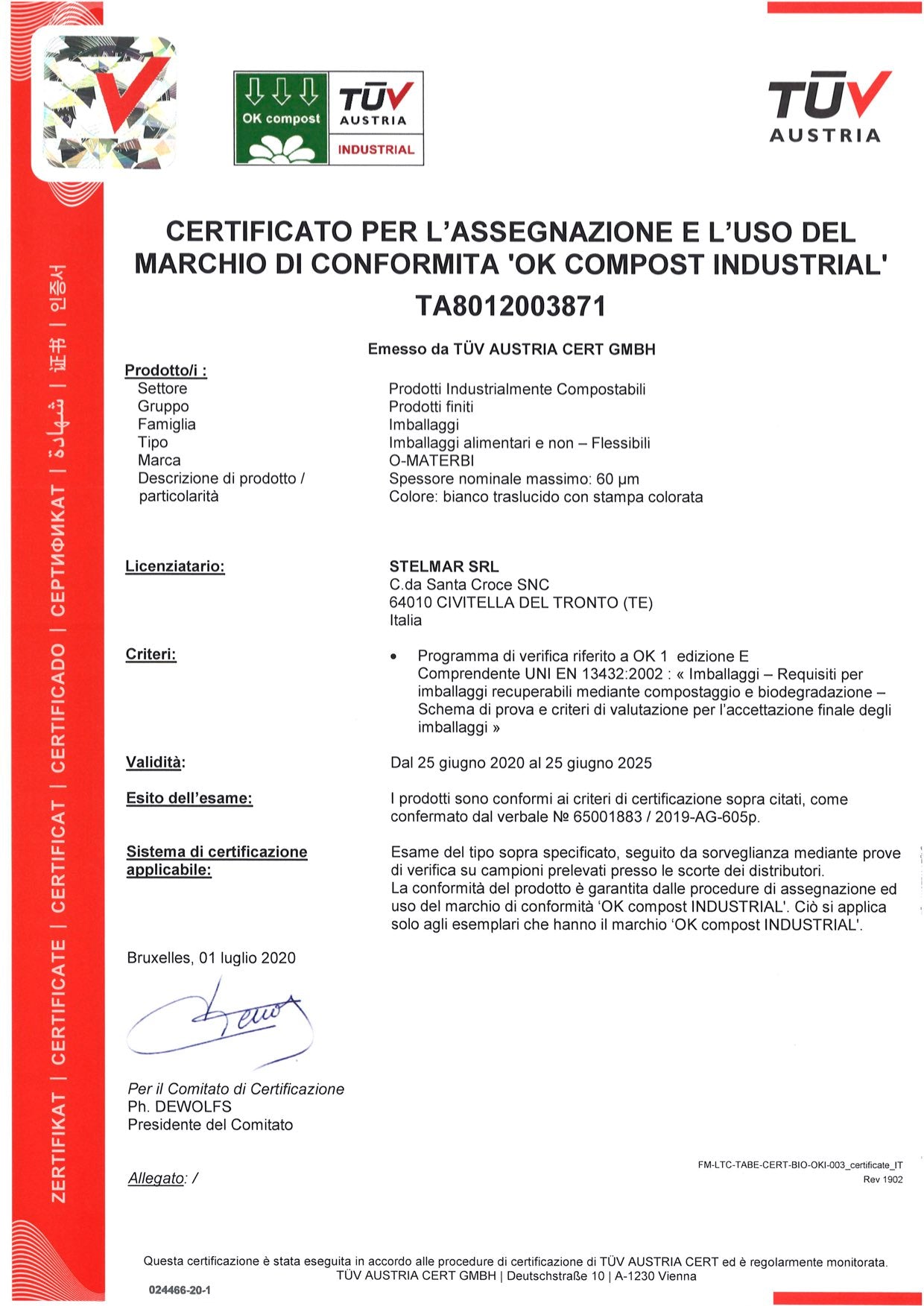 TÜV Austria
TÜV AUSTRIA , an independent certification, inspection, testing and training body, offers certification services at an international level in the fields of quality, energy, environment, safety and products. The OK compost brand and certification scheme - acquired in 2017 - guarantees that the product meets the stringent requirements of the UNI EN 13432 standard after having been subjected to accurate laboratory analyses.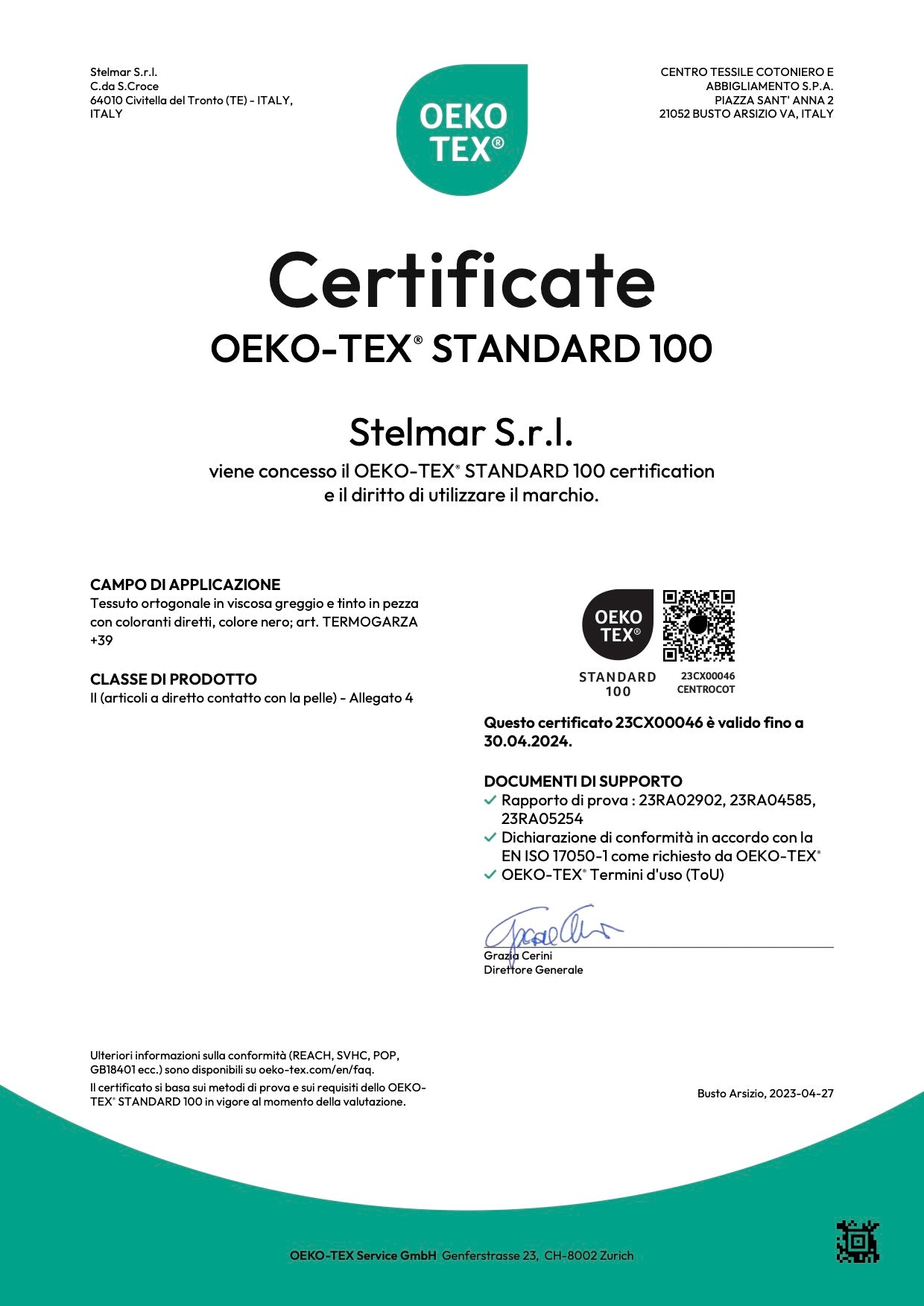 OEKO-TEX
Oeko-Tex Standard 100 is an independent testing and certification system for textile products for all production types across the textile control chain.

The Confidence in textiles label on every product that follows Oeko-Tex Standard 100 indicates that the manufacturer is certified as environmentally friendly in both its processes and factories, as well as
tested to verify the absence of harmful substances.